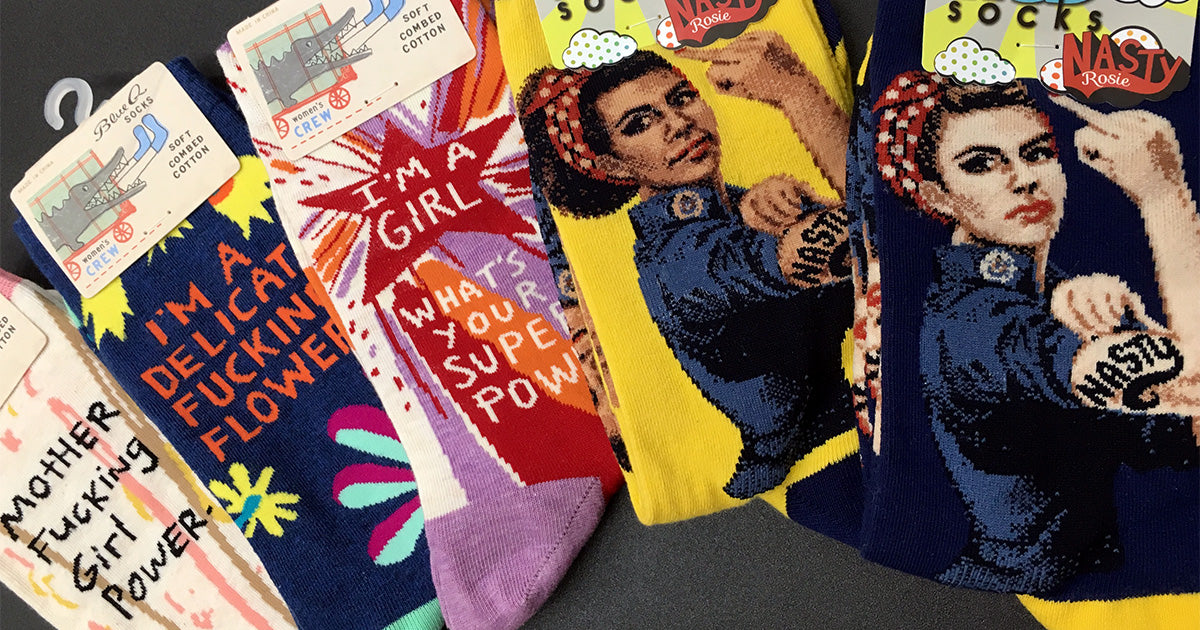 As a nasty woman-owned company, we want to empower your feet with fun socks with feminist designs. That's why we sell novelty socks with political messages, funny slogans, and feminist icons we can all admire. These feisty girl-power socks make great gifts for feminists, or anyone who believes that women's rights are human rights.
More Feminism, Less Bullshit Socks
Jump straight to the point with these feminist socks that say exactly what we all want: more feminism and a lot less bullshit!
Shop More Feminism, Less Bullshit Women's Socks
We Can Do it! Rosie the Riveter Socks
Dismantling the patriarchy is hard work, but WE CAN DO IT! Rosie the Riveter socks honor our foremothers for their hard work during World War II and beyond. There's still work to be done, but a pair of Rosie socks is mighty good motivation.
Shop for Nasty Rosie the Riveter Socks


I'm Not Bossy, I'm the Boss Women's Socks
Let your inner nasty woman run free when you wear these funny feminist socks that say, "I'm not bossy, I'm the boss."
Frida Kahlo Socks
She was radically brilliant and always lived life by her own rules. She's Frida Kahlo, and her face is on these Frida socks, eyebrow and all! Whether you're the artsy type or just a Frida fan, these Frida Kahlo socks send a message about equality and individuality.
Shop for Kahlo Portrait Crew Socks
Shop For Viva Frida Crew Socks
Runnin' the World and Stuff Socks
Who is it who runs the world, again? Oh yeah, GIRLS. These socks say "Runnin' the world and stuff," because when you're a powerful woman, keeping the world running is just one of your many obligations.
Shop for Runnin' the World Ankle Socks
Bad Ass Knee-High Socks
These BADASS socks have an arrow that points straight up at your bad self. They'd look great marching in a crowd, and bonus: the pink ones are the perfect socks to match your pussy hat!
Fight Like a Girl Ankle Socks
"Fight Like a Girl" socks feature a sweet-and-salty sailor who's sick of oppression at sea! Luckily, she's ready to get things done and fight the good fight in the best way possible — like a girl.
Shop for Fight Like a Girl Ankle Socks
Delicate Flower Socks for Women
Do you get annoyed when someone treats you like a weak woman who could fall apart at any moment? These "I'm A Delicate Fucking Flower" socks send the message that even the loveliest roses have thorns! Sarcastic socks never looked so good.
Shop for Delicate Fucking Flower Crew Socks
Girl Power Socks
Finally, for all you '90s kids out there: if you want to zig-a-zig-ah in some spicy girl-power socks, "Motherfucking Girl Power" socks from Blue Q have a serious kick to them!
Shop for Motherfucking Girl Power Socks
We hope you'll pick up a pair of feminist socks from our store today. After all, women in boring socks seldom make history.